Agatized Coral Specimens, Designed by Agatized Earth. ®
Specializing in Florida Coral Agate.
Hello From Agatized Earth.
We love Coral, and want you to love it too! 
We are a Florida based business specializing in Agatized Coral.
Feel free to explore our pages where you'll find many great gifts ideas and items related to Lapidary, Rock Tumbling, Agate, Druzy, Geodes, and Treasure hunting as well.
We love adventure and exploration while finding treasures along the way.
Life is what you make of it, so make it a good one.
Sending lots of love and good energy to you from us here Agatized Earth!
Explore for treasure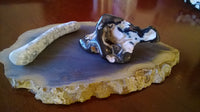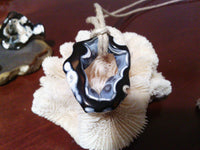 Did you know?
Agatized Coral used to be alive!
Coral Agate is a Fossil Specimen that is millions of years old and has pseudo-morphed; (which means, when one form replaces another) into what is known as micro-crystalline agate.
Just like when a tree changes into petrified wood.
But instead of being a tree, it was once a living coral. Which is pretty cool if you ask me!
To be able to wear something so beautiful from 20 to 30 million years ago... it's just crazy!
Not to mention it is a conversation piece that will make others wish they had discovered this treasure too!
Win a coral pendant
Just Good Energy!
Agatized Coral promotes healing just as crystals do.
Agate is a type of Quartz with similar metaphysical properties.
Please read our (in depth) 'What is Agatized Coral' page below to find out more.
what is agatized coral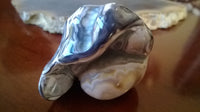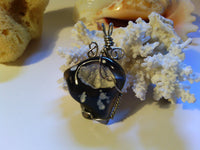 A Perfect Example!
In the photo here we have a perfect example of Agatized Coral in very rare black.
If you notice, it appears as if the black coral agate is hollow in the center, allowing the coral behind it to show through.
However, if you look closely you'll see that it's not hollow, it's actually a solid piece of Micro-crystalline Quartz.
This illusion is because it so closely resembles the coral sitting behind it.
Note: The white spots on the black coral are the polyps showing through; (or so it seems) and the shiny black areas are agate!
find your coral pendant
Now you Know...
Perhaps now you understand why these little treasures from the sea are so special (and unique) in their own design.
Splendid examples of history and rebirth.
Like the Phoenix who was born again; to the wearer goes the strength of regeneration with this great and wonderful energy.
'Click here' to Find Your Agatized Coral Treasure Now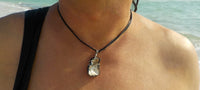 Shared Treasures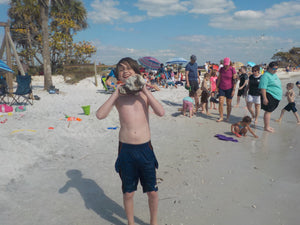 At the beach finding treasure!
Could a face be any happier. :-)
Not Agate, But Still Coral.
We found this beautiful sponge coral on the beach last vacation. The picture came out so pretty I thought I'd share it here.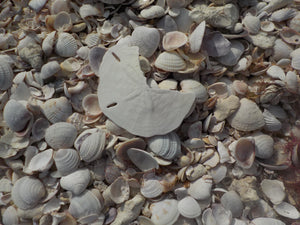 Sand Dollar
Was hunting for pirates treasure, but this will do :-)
WISHING YOU A DAY OF LITTLE TREASURES WITH SIMPLE PLEASURES.